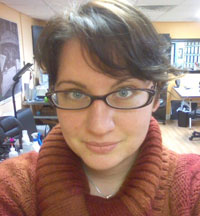 Trish has been tattooing  professionally since 2002. She has worked at JR's Tattoo in West Philadelphia and Electric Rembrandt in Feasterville before opening Valor Tattoo in spring of '09 with Radar. Equally adept at both color and black and grey imagery, she prefers to let the client's ideas and tattoo location blend with her own expectations to dictate ideal placement, design, style and execution. Working from photographs, art nouveau design, and free handing natural curves, foliage and floral design elements are among her favorites. In addition to tattooing, Trish is accomplished in a variety of artistic medium including leathertooling, watercolor and oils. Vibrant pet portraits in oil, and handmade leather belts, instrument straps, and armor are  favorite hobbies and are available by commission.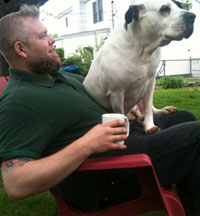 I've been professionally tattooing full time since 2000.  Before that I studied Illustration and Fibers at the University of the Arts on Broad street in Philly. I spent some time as a hired gun playing bass for a living while apprenticing in the city then dove into a career in tattooing. I apprenticed under JR in West Philly who taught me to always have awe and respect for the history and process of tattooing and to always make the customer feel safe and comfortable. I've been tattooing in this area since 2004 and I'm excited to go to work every day at Valor with Trish. It is great to finally have our own space so we know everything is clean and exactly how we want it.
I love to tattoo. I am most comfortable buzzing away with a tattoo machine in my hand, bringing your dreams and ideas to life in your skin. I like doing custom work, researching and designing pieces that last, wear well, and fit your body. I also take a guilty pleasure in doing classic and contemporary flash pieces- the classics always look great! Another favorite of mine is working from photographs and making the images into tattoos that will stay looking good for years to come. I also do more realistic work for customers who want portraits, wildlife, or really anything. I enjoy doing Japanese style tattoos that cover larger areas, anything black and gray, and hot rod themes.
When I'm not at work I like to play bass, read, and work on motors and metal. I make tattoo machines (for sale to professionals only) from scratch. I have built some 70's mopars and harleys and I'm working on a 50's dodge pickup to be our shop truck. I love old and handmade things. Trish and I also like to spend time with our two awesome dogs- Baby is an American bulldog, and Mr. Monkey is a little Boston terrier. They look like yin and yang (white with black spots and black with white spots) are each others best friends!
I look foreward to meeting you and getting your tattoo just right.